Part 2 of 3 of the article series: Understanding Omnichannel Pharma Marketing
Series of Articles: Omnichannel Pharma Marketing
In recent years, Omnichannel Pharma Marketing (OCM) has emerged as a pivotal development in the pharmaceutical market. In this article series, we aim to provide comprehensive insights into OCM, covering the following key aspects:
Building a sustainable customer relationship is perhaps the most important challenge in Omnichannel Pharma Marketing (referred to as OCM hereafter). Therefore, the lead article in this series focuses on how pharmaceutical companies can utilize a well-designed customer journey to address the specific needs of physicians to guide them through their decision-making process. In practice, such a customer journey often requires dozens of touchpoints before physicians truly engage in an exchange and trust can be established. Many of these steps have traditionally been managed by the sales force, but current trends in physicians' information behavior hint in a new direction – with digital channels and pull-oriented strategies like SEO marketing taking over an increasingly vital role. In this article, we provide an overview of the specific channels used in OCM, categorized based on the communication approaches they serve: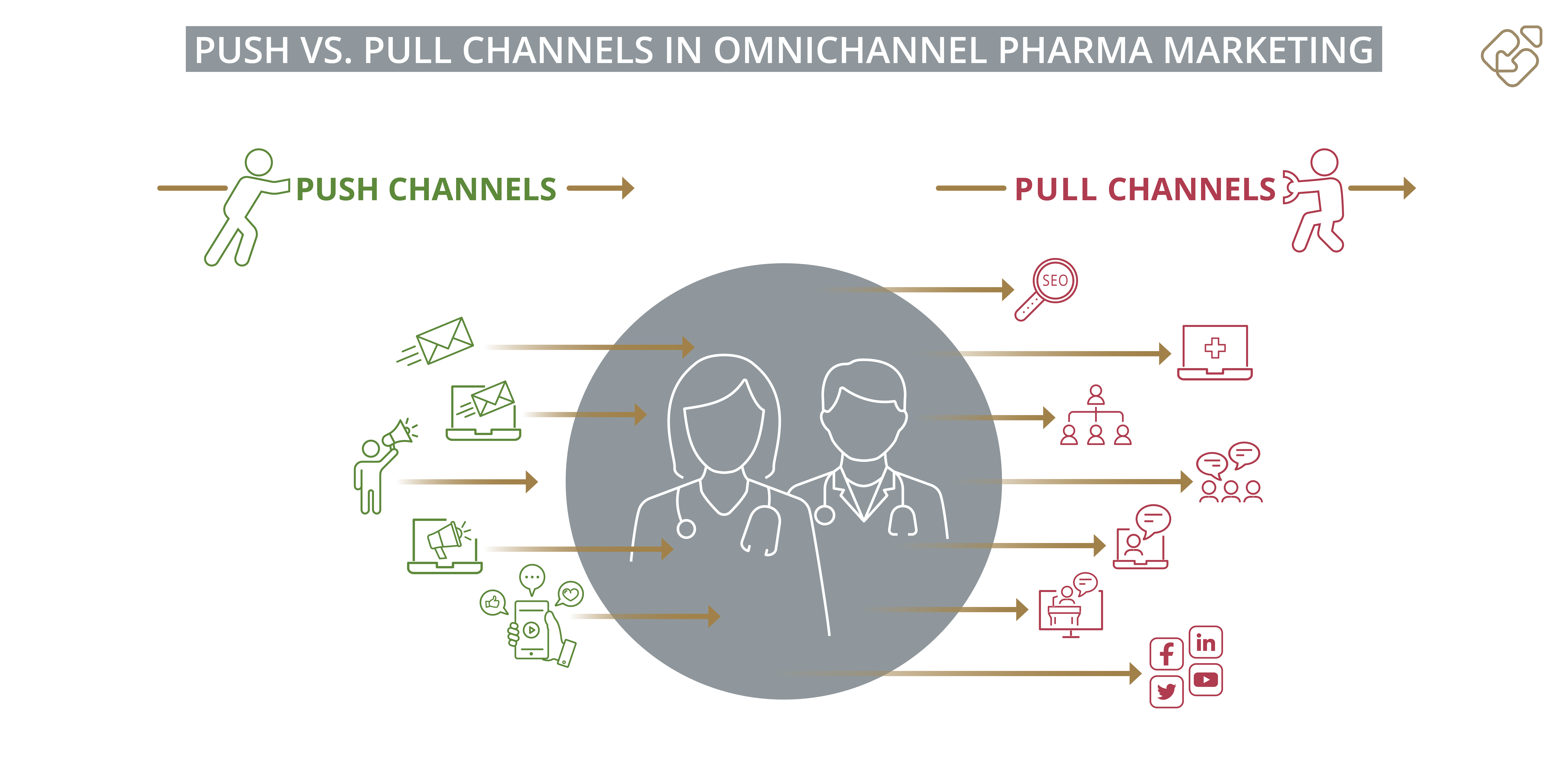 Push marketing involves actively pushing products and information into the market. For example, doctors are actively approached to draw their attention to new offers, content, drugs, and treatment options. Important examples of push marketing channels include:
The sales force has traditionally formed the backbone of pharmaceutical sales. A team of representatives individually informs physicians about products, studies, and treatment options. The sales force serves as a point of contact for medical issues, creating an important foundation for actively influencing decision-making and building long-term trust with physicians. In OCM, the role of the sales force expands to become not only an information provider but also an information collector, identifying the needs, wants, and interests of the target group in a timely manner. The personal relationship established by the sales force offers particular depth and helps identify less tangible emotional reactions.
Simultaneously medical-scientific teams, such as MSLs (medical science liaisons), are gaining importance in pharmaceutical sales. The role of MSLs is to work alongside reps to provide physicians with medical information and clarify scientific questions in detail. This helps pharmaceutical companies close the "science gap" in the sales force and engage physicians with medical experts on a peer level. In the omnichannel approach, optimizing the interaction between field sales representatives and MSLs is thus crucial.
Nonetheless, the field sales force remains an integral part also in OCM, as it builds important bridges to the target group on both content and interpersonal levels. Therefore, many activities in OCM focus on strengthening the sales force using digital touchpoints, such as picking up doctors digitally via e-detailings, webinars, and video calls. Consequently, digital or remote competencies are becoming increasingly vital to the field sales force in addition to direct contacts.
Alongside traditional advertisements in trade journals, targeted online ads are gaining importance in modern pharmaceutical marketing. Banner ads, social media ads, or video clips offer pharmaceutical companies numerous options for reaching their target group online. Advertisements often serve as door-openers, drawing doctors' attention to offerings such as articles, white papers, apps, or seminars, thus initiating the first contact.
Digital ads offer two key advantages for the omnichannel approach. Firstly, online marketing tools allow precise targeting of specific target groups (e.g., specific regions or areas of expertise) to ensure the ads are highly relevant. Secondly, valuable data can be obtained from them, showing how physicians respond to content (e.g., clicks, views, etc.) and allowing to track their journey (e.g., user X clicked on ad Y on LinkedIn, read article Z on the website, etc.). This data helps pharmaceutical companies better understand the customer journey of physicians and allows for the use of effective retargeting.
Information materials like flyers and postal mailings are sent to physicians by mail and typically serve as an extension of the sales force to keep their network updated even outside of meetings. These materials can also be delivered directly by sales representatives as leave-behinds to respective physicians.
At first glance, e-mails may appear to be merely the digital version of classic postal mailings, but there are significant differences. For one, e-mails contain links that enable further actions with just a single click, such as making an appointment for a consultation or opening further articles on a topic. Also, similar to online ads, e-mails provide valuable insights into the target group through generated data. Recipients can, for instance, be tracked to determine who has read the email and interacted with its content. This information is a crucial prerequisite in OCM for initiating tailored follow-up measures. That is why approved e-mails sent via the CRM system have become so important, especially for field sales. Again, the potential of interlining different channels becomes evident as successful lead generation sequences play an essential role in generating the necessary opt-ins for these e-mail campaigns.
Messenger communication involves directly contacting doctors on their cell phones with sales messages. Messages are sent via common messenger services like WhatsApp, Telegram, etc. While this channel is not yet widespread some countries (e.g. Germany), in some European and Latin American countries, it is already common for pharmaceutical companies to communicate with doctors via messenger.
2. Pull Marketing Channels
Instead of actively addressing the target group to create interest, pull marketing focuses on picking up physicians based on their existing interests and needs. Company offers and information are positioned to reach physicians precisely when they are seeking information or support on specific topics. Typical pull marketing channels include:
SEO (Search Engine Optimization) is a strategy that focuses on positioning the company's content and offerings, such as the website, articles, and videos, in a way that makes them easily discoverable by online search engines, mainly Google. The ultimate goal is to have the company's content displayed prominently when physicians search for specific keywords. This approach allows us to reach physicians precisely when they are actively looking for information on a particular topic, making it more likely that they will engage with our content and remember it.
In Omnichannel Pharma Marketing (OCM), SEO proves to be particularly effective during the research phase at the beginning of the customer journey. By using SEO correctly, pharmaceutical companies can generate new active leads, motivating physicians to seek further information from them (e.g. by signing up for a newsletter). Additionally, a strong SEO presence positions the company as a reliable expert and problem solver, especially if it frequently appears in relevant search results. This helps build valuable trust among the target group, even if it doesn't always lead to an immediate lead.
Moreover, SEO also has an indirect impact on physicians' decision-making processes by reaching patients who often research symptoms and diseases on their own. Consequently, it influences physicians through their interactions with colleagues and patients. It's important to note that content that is exclusively accessible to physicians and protected by platforms like DocCheck might not be displayed on Google due to its indexing restrictions.
Strategically, Search Engine Advertising (SEA) and SEO are similar. The difference is that with SEA, companies pay to have their content prominently displayed on Google. This ensures that doctors can find them immediately during online searches.
The company's website serves as an essential hub for target group communication in OCM. It provides access to various contents, such as blog posts, videos, white papers, etc., while also serving as a tool to establish further points of contact, such as e-mail opt-ins, seminar registrations, and appointment bookings. OCM emphasizes covering relevant topics and challenges of physicians with special landing pages, picking them up directly and encouraging deeper exchange (e.g. lead generation) through a clever combination of content and incentives.
With hundreds of thousands of registered members across different countries, medical online platforms such as Medscape, MedPage Today are among the most important points of contact for doctors when it comes to professional training and exchanges with colleagues. For pharmaceutical companies, they therefore offer the opportunity to place their topics (e.g., attention for certain indications or treatments) in a target group-specific manner and to start fruitful discussions between physicians with the help of interactive content (e.g., casuistry).
Similar to medical online platforms, social networks (e.g. LinkedIn) also offer physicians the opportunity for professional exchange. A major advantage for pharmaceutical companies is that they can also address individual physicians personally and interact with specific niches in a very targeted manner.
In terms of function, seminars and webinars are similar to those of online platforms and social networks; here, too, the focus is on training and exchange. Their advantage is that the exchange with the target group is much more intensive and personal. This is why such events often represent an important milestone in the OCM customer journey. Seminars and webinars provide an important point of contact for the sales force to build up a personal relationship and trust with physicians. At the same time, the intensive interaction helps to gather important information about the needs and interests of physicians, which serves as a basis for tailoring future marketing and sales activities to them.
Events and congresses represent another important direct point of contact with the target group. An important difference compared to seminars/webinars is that access to the target group is not exclusive here, but normally has to be shared with the competition. This means that differentiation from competitors plays a particularly important role during such events. In OCM, it is therefore important to use the accumulated knowledge about the target group to stand out by addressing physicians with highly relevant topics.
In Omnichannel Pharma Marketing (OCM), pharmaceutical companies have a range of channels at their disposal to connect with their target audience. Thereby, each channel serves a specific purpose in different stages of the customer journey. However, the true challenge lies in seamlessly coordinating these channels and tailoring them to meet the specific needs of the target groups.
To succeed in OCM, companies must employ sophisticated channel management techniques. This involves segmenting customer groups based on their preferences and channel affinity, controlling the information flows, and aligning the customer journeys with their unique requirements. By leveraging data-driven insights and personalized content, pharmaceutical companies can build strong relationships with physicians and healthcare professionals, creating a cohesive and satisfying customer experience that fosters trust and loyalty.
A centrally managed system for the company's content is an essential tool for controlling and linking various channels. A content hub in OCM serves two vital functions for pharmaceutical sales and marketing:
Universal Access:

The content hub acts as a smart library, making all of the company's content (e.g., articles, podcasts, videos, product information) accessible throughout the organization. It allows sales, for example, to use a podcast series developed by marketing as follow-up for a physician, to further nurture the interest they just displayed during their conversation. A good content hub ensures content availability and discoverability, enabling employees to conveniently and quickly find suitable content. Over time, a valuable inventory of content is built, allowing pharma companies to share and reuse resources effectively between areas of responsibility.
Information Gathering:

The content hub's second function is to gather data on content usage and reception. It involves obtaining as much information as possible about the target audience for each deployment. Determining which content works best for specific groups of physicians at various stages of their customer journey is crucial. Moreover, content that a physician interacts with provides valuable insights into their needs and interests. The information gathered via the content hub is a valuable basis for playing out content more effectively and provides important clues for further marketing and sales activities, such as topic suggestions.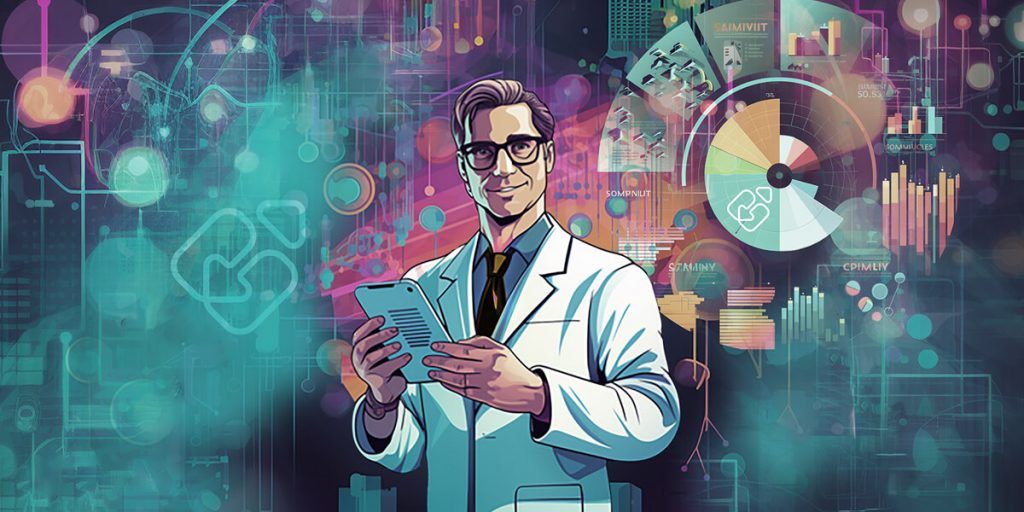 Learn about the advantages of Omnichannel Pharma Marketing and how your company can benefit from them:
✔️ Customer centricity
✔️ Breaking down information silos
✔️ Cross-functional cooperation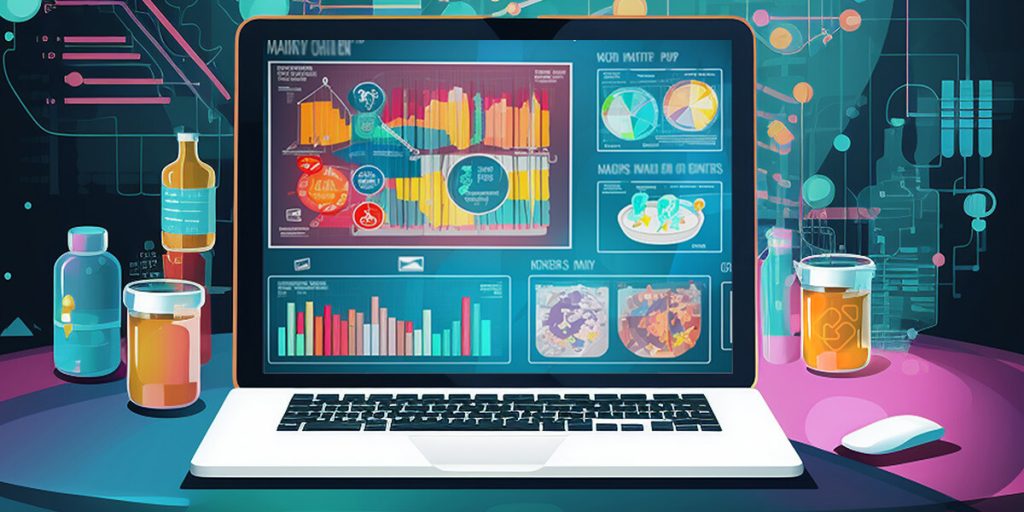 Learn how data management works in Omnichannel Pharma Marketing and how pharma sales and marketing can benefit from it:
✔️ Data processing
✔️ Data infrastructure
✔️ Using data in practice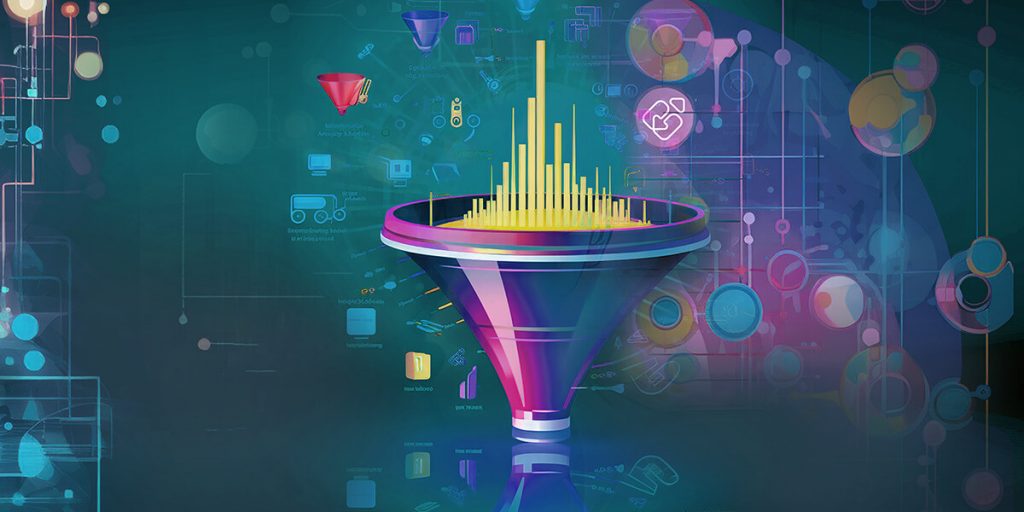 Learn which channels work in Omnichannel Pharma Marketing and how pharma sales and marketing can benefit from them:
✔️ Push Marketing Channels
✔️ Pull Marketing Channels
✔️ Content Hub